Gluten is the protein in wheat that has received much attention in the media lately. I get many questions on whether or not it is an option worth choosing.  I am thus dedicating this newsletter to some interesting facts, tips, recipes, and tid bits on gluten, to hopefully help each individual decide. It is a lifestyle choice, and it is not always simple!
"Should I Go Gluten Free?"
One of the latest trends is a gluten free diet with an increasing variety of GF products available in grocery stores and restaurants. However, does that mean you should cut gluten out of your diet? Whole grains are an important part of a balanced diet with many nutritional benefits yet more people are avoiding wheat, rye, barley, oats, and anything that doesn't say gluten free on it. Gluten is a protein that provides elasticity in dough to give bread and other products a wonderful texture. So, why give that up?
It is currently only recommended to eliminate gluten from your diet if you have a gluten sensitivity/intolerance/allergy or Celiac disease. A gluten free diet can be restrictive in both choices and nutrients.  Some drawbacks of a gluten free diet include an imbalance of intestinal flora (the bacteria in your gut which protect or harm your GI tract, depending on the bacteria, and can also influence weight gain/loss), lethargy, vitamin B deficiencies, calcium deficiency, and other documented conditions. With that being said, there are a number of individuals who tout the benefits that they have personally experienced having cut out gluten from their diets such increased energy levels and weight loss. With any diet, it's important to get adequate nutrients and calories and restrictive diets can be challenging in that aspect.
Gluten sensitivity and Celiac can be diagnosed in a variety of ways. Keeping a food diary that tracks your mood and symptoms as well as foods can help you and a health professional better assess if you do have any issues with consuming (or even touching) gluten products. Some individuals eliminate gluten from their diets during a short period of time, as well, to see if gluten causes unwanted symptoms when re-introduced to the diet. An important piece of information to remember when attempting to be diagnosed with a gluten sensitivity or Celiac often includes consuming gluten so the presence of it is in your system during testing, depending on the diagnostic tool.
If you're avoiding gluten, you will want to check the ingredient  and nutritional labels for:
Certified Gluten Free
100% Gluten Free
Wheat
Wheat gluten
Barley
Rye
Oats: do not necessarily contain gluten but many with a gluten sensitivity have trouble digesting oats as well.
Malt
Hydrolyzed vegetable protein
What can you eat instead?
Corn; including cereals and other corn-based products
Rice; including cereals and other rice-based products
Potatoes
Craving pasta? Consider using spaghetti squash instead
Wine is generally safe but check the ingredients to be sure
Eggs
Fish
Dairy
Meat
Fruit
Vegetables
Specialty, GF products
=============================================
Fitness Corner: Yoga
Yoga, once a male-dominated practice, is being done by people of all ages, genders, at home, at the gym, and in the park. It has extraordinary benefits for the mind and the body. Would you consider trying it? If so, you will want to try out a variety of styles (some people love flow yoga while others love power yoga and others simply prefer a different style) and teachers as no one yoga instructor is like another.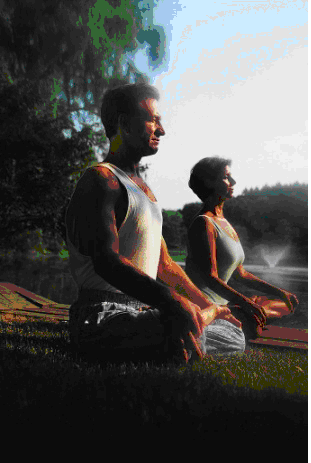 The benefits?
Increases strength. That's right- you can see some amazingly toned yoga bodies using their muscle strength to hold astounding poses.
Increases flexibility. Not only are certain muscles being strengthened during a pose, others are being lengthened.
Improves posture. Yoga poses focus on a straight back so lots of practice can make perfect!
Provides relaxation through meditative breathing. Now that's a way to pack a punch- get in shape and get rid of stress at the same time!
Relaxation, proper breathing, increased muscle tone, movement that increases circulation, and other benefits of yoga also benefit the heart.
Yoga may also be beneficial for memory loss, concentration, and even IBS symptoms in some individuals.
Yoga is not to be treated like a race or performance. You go at your own pace. You choose your level of intensity and hold the pose as long as you comfortably can. If you are interested in trying yoga, fitness centers offer classes that may be beneficial to beginners as instructors can help make sure poses are done properly for your own safety. Want to try it for free? Consider a free video online from hulu.com or yogajournal.com to see if yoga is right for you.
Namaste!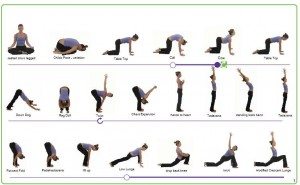 SPICE OF THE MONTH:
Cinnamon Up Your Life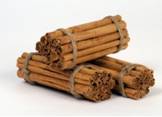 Cinnamon is a very common spice that has recently received a pat on the back because of its health benefits. There have been many studies discovering its effect on glucose metabolism, antiseptic powers against bacteria's and fungi and even for improving brain function.
Some of the possible ways in which one can enjoy this power spice:
– Add a cinnamon stick to flavor your favorite tea
– Add to unsweetened applesauce, cereal or oatmeal
– Sprinkle on toast or add to butter or cream cheese
– Sprinkle on coffee, cocoa, fruit juices, and ciders
– Add cinnamon to your favorite baked goods
Remember after opening your cinnamon store it in a tight sealed container away from the light.
OR
If you're looking to add some different spices to your life, consider this recipe:
Recipe Corner: Curried Red Lentil Soup      (SERVES 6)
1 cup hulled red lentils, rinsed in hot water
4 1/2 cups nonfat vegetable stock
2 Tbs. nonfat plain yogurt
1 tsp. curry powder, or to taste
1 tsp. grated fresh ginger, or to taste
1/2 tsp. ground cumin, or to taste
1/4 tsp. cayenne, or to taste
1/2 tsp. onion powder, or to taste
Shredded coconut as garnish
Dried peanuts as garnish
Cilantro leaves as garnish
Diced red pepper as garnish
Chutney as garnish
Raisins as garnish
Put lentils and vegetable stock in a large saucepan, and bring to a boil over medium-high heat. Reduce heat to medium, and cook for about 20 minutes, or until lentils are tender. Reduce heat to very low.
Put 2 cups lentils and yogurt into blender and purée until smooth. Recombine with soup in pan, and stir in seasonings. Heat through, and serve, garnishing each portion as desired. 
Per SERVING:
| | |
| --- | --- |
| Calories | 130 |
| Protein | 8g |
| Carbs | 25g |
| Sodium | 520mg |
| Fiber | 6g |
| Sugar | 5g |
===================================================
AND NOW FOR…. MY FAVOURITE GLUTEN-FREE DISH
QUINOA SALAD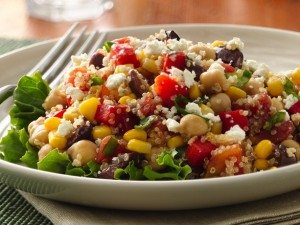 1   cup uncooked quinoa
2   tablespoons fresh lemon juice2   tablespoons olive oil
2  tablespoons chopped fresh basil
1  can (15 oz) gluten-free garbanzo beans, drained, rinsed
1  can (15.25 oz) whole kernel sweet corn, drained
1  can (14.5 oz)  diced tomatoes, drained
1  cup chopped red bell pepper
1/2  cup crumbled goat cheese
2 Tablespoons balsamic vinegar
Rinse quinoa under cold water 1 minute; drain. Cook quinoa as directed on package; drain. Cool completely, about 30 minutes.
Meanwhile, in small nonmetal bowl, place lemon juice, oil and basil; mix well. Set aside for dressing.
In large bowl, gently toss cooked quinoa, beans, corn, tomatoes, bell pepper. Pour dressing and balsamic vinegar over quinoa mixture; toss gently to coat. Serve immediately or refrigerate 1 to 2 hours before serving.
Just before serving, sprinkle with goat cheese. Garnish with basil leaves if desired.
HAVE A HEALTHY MONTH,
ILANA