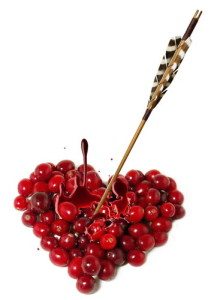 Whether you drink cranberry juice, blend cranberries in smoothies, add cranberries to stuffing or enjoy cranberries in salsa, salads or side dishes, they can keep you healthy any time of the year. They are loaded with Vitamin C and other antioxidants.
Their crimson color comes from a flavonoid that may help lower your LDL- (bad) cholesterol, help prevent blood clots that cause heart attacks and strokes-and so protect you from heart disease. Their other plant substances may protect from cancers, gum disease and stomach ulcers.
Another better known benefit, substances in cranberries help prevent bacteria in the urinary tract from causing bladder infections.

RECIPE USING CRANBERRIES
Homemade protein Bars are great for a pre work out energy boost, with the perfect amount of carbs to get your metabolism revved up. They are simple, quick and delicious for the time strapped athlete – make a bunch at a time – they are freezable too!!
HOME MADE PROTEIN BARS
 4 ounces whey protein powder, approximately 1 cup
2 ¼ ounces oat bran, approximately ½ cup
2 ¾ ounces whole-wheat flour, approximately ½ cup
¾ -ounce wheat germ, approximately ¼ cup
½ teaspoon kosher salt
6 – 8 ouncse (dried fruit of choice (approx 1 ½ cups)  <— This is where cranberries can be great !!   (eg. cranraisins, apricots,  combination makes best bars)
12 oz plain or vanilla yogurt (can use silken tofu too)
½ cup unfiltered apple juice
4 ounces dark brown sugar, approximately ½ cup packed
2 large whole eggs, beaten
2/3 cup natural peanut butter
Pam spray for pan
 Spray a 13 by 9-inch glass baking dish with Pam. Set aside. Preheat the oven to 3500 F.
In a large mixing bowl, combine the protein powder, oat bran, wheat flour, wheat germ, and salt. Set aside.
Coarsely chop the dried fruit and place in a small bowl and set aside.
In a third mixing bowl, whisk the tofu until smooth. Add the apple juice, brown sugar, eggs, and peanut butter, 1 at a time, and whisk to combine after each addition. Add this to the protein powder mixture and stir well to combine. Fold in the dried fruit. Spread evenly in the prepared baking dish and bake in the oven for 35 minutes or until the internal temperature reaches 205 degrees F. Remove from the oven and cool completely before cutting into squares. Cut into 3" X 3"squares and store in an airtight container for up to a week
Nutrient Info per Serving (1 3" x 3" bar):
Calories:   145
Total Fat:   8.5g
Protein:     11.5g
Carbs:         31g
Fiber:         3g