Apple crisp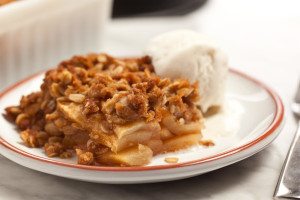 Fiber One skeptics! I DARE you to try this recipe and not love it. Okay, if you're absolutely opposed to using F1 for baking, leave it out and double the graham cracker amount instead (each serving will then have 141 calories, 1g fat, 2.25g fiber.
Try spooning some of this stuff on top of light vanilla ice cream or yogurt…also yummy!!!
Ingredients:
3 cups peeled apple chunks (any sweet, not tart, variety)
1/2 cup Fiber One bran cereal (original)
2 sheets (8 crackers) low-fat honey graham crackers
2 tbsp. fat-free liquid egg substitute
2 tbsp. no-sugar-added applesauce
3 tbsp. Splenda No Calorie Sweetener (granulated), divided
2 tbsp. brown sugar (not packed)
1 tbsp. cornstarch
2 tsp. cinnamon, divided
1/2 tsp. vanilla extract
1/4 tsp. salt
Directions:
Preheat oven to 400 degrees.
Combine 2/3 cup of cold water with brown sugar, cornstarch, 1/2 tsp. of cinnamon, vanilla extract, salt, and 1 tbsp. of the Splenda.
Stir well.
In a medium-sized pot, combine apple chunks with this mixture.
Heat the apple mixture over medium heat, stirring occasionally.
Once liquid thickens to a syrupy consistency and begins to bubble, reduce heat to low and cover.
Allow to simmer for 5 minutes, and then transfer mixture to a medium-sized round baking dish. Set aside.
Next, break graham crackers into small pieces. Place graham pieces and Fiber One in a blender or food processor, and grind to a breadcrumb-like consistency.
Transfer crumbs to a microwave-safe dish, and add egg substitute, applesauce, 1 1/2 tsp. of cinnamon, and the remaining 2 tbsp. of Splenda. Stir well.
Microwave graham mixture for 1 minute.
Use a fork to break up the toughened mixture as much as possible, and then allow it to cool for a few minutes.
Transfer graham mixture to a food processor or blender, and pulse until crumbly and uniform.
Evenly distribute graham topping over apple mixture.
Place the dish in the oven, and bake for 10 minutes. Allow cobbler to cool slightly before serving.
MAKES 4 SERVINGS
Serving Size: 1/4th of cobbler (about 1 cup)
Calories: 126
Fat: 1g
Sodium: 236mg
Carbs: 33g
Fiber: 5.5g
Sugars: 16g
Protein: 2g