Celebrate

(Food)

Culture

and

Diversity

this

October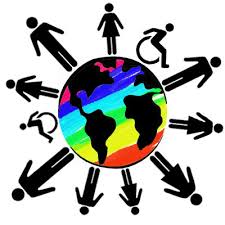 What foods do you traditionally enjoy with your family? Everything from what you eat to what time of day you eat to what utensils you use (or don't use!) contributes to your personal food culture. Food brings people together for festivals, weddings, birthdays, and simple social gatherings or romantic dates.
Take a chance this month to celebrate cultural diversity and embrace the nutritional aspects of a culture you have always been interested in trying. Grab some friends and make it an adventure. You may just find a fruit or vegetable you have never had before and love it! And if you do, you just have more diversity to add to your own diet.
What are some interesting foods you may want to experiment with?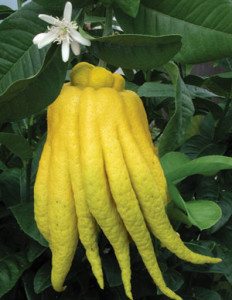 Buddha's Hand: Although it may look odd and almost like a hand, this fruit provides a significant amount of lemony zest for a variety of recipes. This hand is packed with vitamin C and antioxidants and makes a wonderful garnish or interesting centerpiece. Check your local Whole Foods for this divine fruit.

Manoomin is often mistaken for rice but is more similar to corn. It is indigienous to North America and harvested around the Great Lakes. This is an heirloom plant grown, harvested, and protected by Native Americans. If you are looking for a new rice-like 'grain' to incorporate into recipes, you will want to check online to find out where to buy this special crop.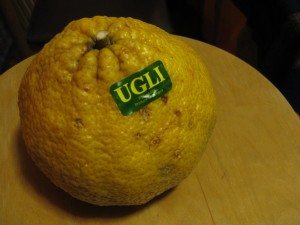 Lopsided, uneven, and maybe ugly to some, the Ugli Fruit can be found in a number of grocery stores. Ugli fruit has vitamin C, antioxidants, fiber, and is easier to peel than one might think.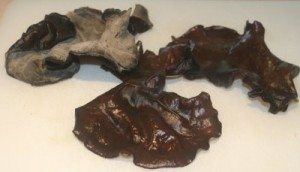 If you like grapefruit or tangerines, you might want to give this beauty a try. These ears are found on the side of trees and not animals so don't be worried by their appearance. Wooded Ear Mushrooms are a source of vitamins B, C, and D as well as iron. You may encounter these mushrooms in Asian cuisine so the next time you're at out for an Eastern-inspired restaurant, look to see if you can sample these strange looking creatures.
Fitness Corner: Finding the Exercise that is Right for You!
"Working out is soooo much fun!" is something we have probably all heard at one time or another and wondered what that person was trying to really convince us of. Truth is, they were most likely being honest and wanted to share their enthusiasm or they, as your biggest cheerleader, wanted to motivate you to find a fitness activity you would also enjoy.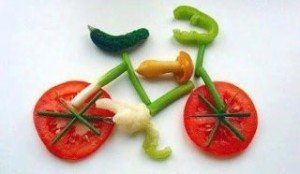 "But I don't like working out" you might say to this person. But, maybe you just haven't found the right exercis for you. After all, we all have different interests. This month is about being adventurous- trying out new foods and ways to burn calories. This month, what are you going to try to burn more calories?
If You Love…
You Might Try…
Dancing
ZumbaBallroom Dancing Lessons (and don't worry if you don't have a partner, you tend to meet a lot of others who are looking for someone to dance with at dance lessons)

Bellydancing or Bollywood dancing

Ballet, hip hop, or tap dancing lessons

Spend more nights out at your favorite dancing club with friends and family inspiring them to get in shape while having fun

Watching Television
Get up and move during the commercials and even during the show. If you have hand weights, do some curls or if you have a cardio machine, like a treadmill, watch your favorite show while burning calories.
Playing Videogames
Consider the fun new 'video games' on the Xbox, Wii, and PC. There are games geared towards fitness or just having fun (like Dance Central that gets you dancing to your favorite hits without realizing you broke a sweat).
Golfing
Walking instead of riding to the next swing.
Animals
Horseback riding, especially English Riding, which tones those legs from standing up and sitting back down repeatedly.Pet walking/sitting for your friends or neighbors. Being around animals has positive health benefits but walking multiple pets around the neighborhood and playing with them can definitely help burn some extra calories.
Swimming
Consider ramping it up by doing pool exercises or joining aquatic aerobics. If you're already in the pool, why not?
Walking
Add your arms, walk a bit faster, or consider wrist/hand/ankle weights for added resistance.
Everything you do adds up so remember to turn on some fun music while you're cooking, cleaning, or doing yard work and move around more than you usually would. Take the stairs at work. Park further away. You might be surprised, if you tracked all of those calories, how many extra you burned off!
Recipe of the Month: Pumpkin or Squash Stew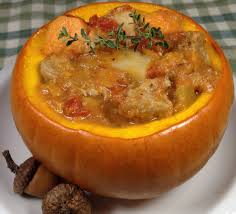 Serves 6
1 medium onion, diced (1 cup)
2 Tbs. olive oil, divided
1 red bell pepper, cut into 1-inch dice
2 cloves garlic, minced (2 tsp.)
1 tsp. chili powder
1 tsp. ground cumin
½ tsp. dried oregano
1 16 oz. jar tomatillo salsa
1 15-oz. can hominy, rinsed and drained
¾ tsp. salt
1 3- to 4-lb. pumpkin, either sugar pie, cheese, red kuri, kabocha, or buttercup squash
2 oz. grated sharp Cheddar cheese (½ cup packed)
DIRECTIONS
Preheat oven to 350°F. Heat 1 Tbs. oil in pot over medium heat. Add onion, bell pepper, and garlic. Sauté 7 minutes, or until softened. Stir in chili powder, cumin, and oregano, and cook 3 minutes more, or until spices darken.
Add tomatillos, hominy, ı/2 cup water, and salt. Cover, and bring to a boil. Reduce heat to medium-low, and simmer, partially covered, 10 to 12 minutes, or until tomatillos are softened. Uncover, and cook 5 minutes more to thicken stew, if necessary.
Meanwhile, cut top of pumpkin around stem to make lid. Scoop out pumpkin seeds and strings. Rub inside of pumpkin with remaining 1 Tbs. oil, and sprinkle generously with salt. Sprinkle cheese in bottom of pumpkin.
Fill pumpkin with stew, then top with pumpkin lid. Place on parchment-covered baking sheet and bake 1 ½ to 2 hours, or until pumpkin flesh is fork-tender. Remove from oven; let stand 5 minutes.
Scoop stew, including pumpkin, into bowls and serve hot.
Per serving :
cals: 221       protein 6g        Total fat 9g      Sat Fat 3g      Carbs 31g       chol 10 mg      sodium 677 mg
Fiber 6g    sugar 10g
Breast Cancer Awareness

All around the world October is recognized as the Breast
Cancer Awareness Month. This newsletter is to not only to recognize those
who have experiences this tragic disease, but also to show that awareness may
lead to prevention, or at least being able to catch it at an early stage.

Unfortunate Facts: Next to skin cancer, breast cancer is the most common cancer among women today. It is also one of the leading causes of death among all women in the United States.
Cancer also still remains the second leading cause of death in the United States.
The Center for Disease Control and Prevention reports that  over 202,000 women are diagnosed with breast cancer yearly and this results in over  40,500 deaths yearly due to breast cancer.
To lighten up what you can do – do not forget your annual physical and Mammogram:
The Mammogram Poem
[Anonymous]
(This poem has been around for awhile, and in honour of October being breast awareness month, I thought it may be a great time to repost)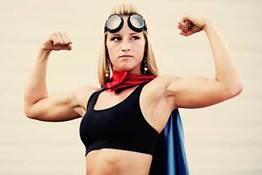 For years and years they told me,
Be careful of your breasts.
Don't ever squeeze or bruise them.
And give them monthly tests.
So I heeded all their warnings,
And protected them by law.
Guarded them very carefully,
And I always wore my bra.
After 30 years of astute care,
My gyno, Dr. Pruitt,
Said I should get a Mammogram.
"O.K," I said, "let's do it."
"Stand up here real close" she said,
(She got my boob in line,)
"And tell me when it hurts," she said,
"Ah yes! Right there, that's fine."
She stepped upon a pedal,
I could not believe my eyes!
A plastic plate came slamming down,
My hooter's in a vice!
My skin was stretched and mangled,
From underneath my chin.
My poor boob was being squashed,
To Swedish Pancake thin.
Excruciating pain I felt,
Within it's vice-like grip.
A prisoner in this vicious thing,
My poor defenseless tit!
"Take a deep breath" she said to me,
Who does she think she's kidding?!?
My chest is mashed in her machine,
And woozy I am getting.
"There, that's good," I heard her say,
(The room was slowly swaying.)
"Now, let's have a go at the other one."
Have mercy, I was praying.
It squeezed me from both up and down,
It squeezed me from both sides.
I'll bet SHE'S never had this done,
To HER tender little hide.
Next time that they make me do this,
I will request a blindfold.
I have no wish to see again,
My knockers getting steamrolled.
If I had no problem when I came in,
I surely have one now.
If there had been a cyst in there,
It would have gone "ker-pow!"
This machine was created by a man,
Of this, I have no doubt.
I'd like to stick his balls in there,
And see how THEY come out.
WISHING YOU A HEALTHY MONTH !!
ILANA