Everywhere you go, you can't help but nibble on rich holiday treats. A typical holiday meal can be 4000-5000 calories. To make matters worse, activity drops because we're indoors. Consequently, most of us put on several pounds during the holiday season.
But weight gain does not have to be inevitable. You can compensate for eating high calorie meals by increasing your activity and making
wise food choices when possible. For instance, it's easy to rake up the calories when eating snacks. Choose raw vegetable and fresh fruit with
low-calorie dressings instead of cheese spreads or high-calorie dips.
When it comes to eating meats, choose turkey breast without the skin. The skin on turkey can add 200 extra calories to meat that is
fairly lean to begin with. Avoid fatty gravies; instead opt for natural cooking juices that have been de-fatted. Limit yourself to one casserole-type potato or vegetable dish – most casseroles tend to be high in cals. When it comes to dessert, choose fruit or pumpkin pie over pecan pie. Desserts made with graham cracker crusts are generally lower in fat, making them a better choice.than desserts with traditional piecrusts.
SO Ho, Ho, Ho! Tis the season of giving, receiving, and of course, feasts. Holidays revolve around food and family. Although this season represents serious temptation for a dieter, following these tips will help you succeed instead of "starting over" after the New Year.
REMEMBER – Its a HoliDAY  Not a HoliMONTH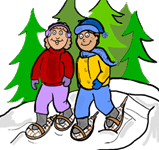 Get Moving
When you're busy  with your wrapping of  gifts, last minute shopping, cooking, entertaining…don't forget about your exercise routine. Try
something new with your family and friends this year—get outside and be active. It's fun, it's festive, and it's a great calorie burner. Winter brings unique exercise opportunities that you can't experience any other time of year with such activities of:
– Burn 84 calories ice skating for 10 minutes.
– Burn 96 calories playing hockey for the same amount of time.
– Cross-Country skiing is one of the best all-around exercises out there.
– Burn 96 calories in 10 minutes while working both your upper and lower body.
– Using a snow blower burns 54 calories in 10 minutes while shoveling snow burns 72.
– Another great winter exercise is Snow Shoeing. You can burn 96 calories in 10 minutes.
So here's to hoping for a White Christmas
AND… a another brilliant idea
This year, try speed shopping…. Lace up those sneakers and move! Before you know it your shopping will be done.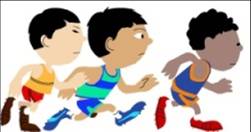 Healthy Gift Ideas 
If you have a beloved family member or a friend that is looking to get on the track to a  better/healthier  way of life, why
not help nurture them healthy gifts to guide them in the right direction:
Water Bottles.  Reusable metal water bottles offer a healthy alternative to the temptation of sugary drinks.
 Lunch Bags. Thermal bags are a fun way to pack healthy fare and save calories and money.
 Sports Gear. New gear can energize even a reluctant exerciser.  Buy wicking
athletic wear, like socks or shirts, which can make exercising comfortable in any climate.
Or even a nutrition consult gift certificate  😉
Lunches 
Around this time of year, everyone invites you to lunch—friends, family, and co-workers. From heavy
Italian sauces to tacos, you know your diet is going to go downhill before you walk in the restaurant. Stay away from anything that says:
 Creamy, Crispy, or Fried. Order your sauces on
the side, and ask for a box before your meal begins.
 Put half of the meal into the box before you start eating. That way, you can still be a part of the clean plate club without overeating.
Go Green on Christmas
So often, gifts are given merely for the sake of giving and little thought goes into something that will be made use of. Here are some ideas for green gifts, as well as making time with your loved ones as eco-friendly as possible:
Avoid using packing peanuts to package gifts, as these are toxic to the environment. Rather use recycled paper to stuff inside boxes.
Should batteries be needed for gifts, consider giving rechargeable batteries with a charger along with the gift.
Avoid wrapping paper by using reusable bags that the recipient can make use of at a later stage.
Consider giving a gift certificate for a local spa or natural health and wellness centre or NUTRITIONIST.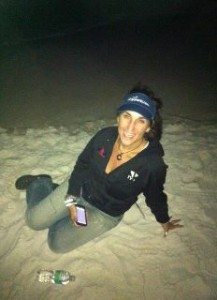 Holiday Parties
If you don't eat all of your host's offerings, you feel rude…but you know just looking at them puts a pound on each thigh!
Make sure you grab a quick snack before the party starts, so you won't feel famished.
Decide ahead of time how many cookies you're going to have. Make up for the extra calories through the rest of the day—eat an open-face sandwich with only one piece of bread and have some salsa on your baked potato instead of sour cream and butter.
Make your own healthy foods to bring to the party. At least you'll know there is something there that won't blow your diet.

Christmas Fun fact
December 25 officially became the day for Christians to celebrate the birth of Jesus around the fifth century. The Romans held winter
festivities and feasts around that time, including the "Yule" holiday, which involved setting large fires. The traditions merged as time
passed, bringing us the Yule log and the special importance placed on food.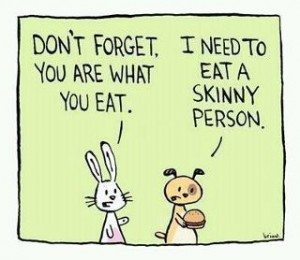 RECIPE OF THE SEASON
Low Fat Cream of Pumpkin Soup (Serves 6)
1 tbsp olive oil
1 small yellow onion, finely chopped
2 garlic cloves, minced
1 tbsp curry powder
1 tsp cumin
3 cups fat-free, low sodium chicken broth
1  15-ounce can pumpkin
1  12-ounce can evaporated fat-free milk
Freshly  ground Black pepper to taste
Heat oil in a large saucepan over a    medium heat. Add onion and garlic and cook
until softened. Stir in curry powder and cumin and cook for 1 minute. Add
chicken broth and pumpkin. Reduce heat to low and simmer for 20 minutes.
Add evaporated fat-free milk and cook for 2minutes. Transfer soup to a blender and blend until smooth.
Per Serving: Calories 112, Calories from Fat 25, Total Fat 2,7g (sat 0.5g), Cholesterol 2mg, Sodium 101mg